Crash! Boom! Bam!
"We got him! We got him!" Four children race from their rooms in search of the creator of all the commotion. A path of green foot prints leads them down the hall. As they round the corner to the kitchen, a carton of milk is spilling onto the floor. The youngest shrieks, "Look the milk is green!"
Giggles fill the room as the children look around. Little green hand prints are spotting the front of the fridge, a box of lucky charms is overturned on a kitchen chair, and the once white dish towel is now rainbow colored and hanging from the ceiling fan.
The children creep over to the leprechaun trap they made the night before. "Did we get one?" asks one of the children. Another reaches into the can and pulls out a tiny pot of golden candy coins.
Oh Man! He's escaped again!
We love trying to trap leprechauns at our house. One of our favorite books this time of year is The Night Before St. Patrick's Day by Natasha Wing
In this adorable play off of the famous Christmas classic, Maureen and Tim are working hard to trap a leprechaun. They are thrilled when they discover they have done it! There is a cute twist at the end of the story which left my children giggling.
After reading this story, my kids decided to put together their own leprechaun trap.
Hence the mess...
Isn't it cute? I gave them the supplies they requested, but they put it all together on their own.
There is a rope ladder to climb up the front. This leads into the feather lined tube. From there the leprechaun will reach for the gold coins and fall into the second can and be trapped.
I just love the creativity of my children! They are just so clever. I can't wait to see if this one works! ;)
Linked at: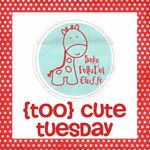 and
Someday Crafts